PREMIER COATINGS LTD
A member of Winn & Coales International
Our Story
Premier Coatings Ltd specialise in the manufacture and supply of a wide range of cost effective, corrosion prevention and chemical resistant coatings and linings as well as waterproofing systems for the utilities, civil engineering and construction industries.
Quality and Innovation
The company is constantly reviewing its products and keeping up-to-date with the latest technology. The development of new products for new applications is always a high priority.
The full range of Premier products are manufactured to comply with the strict quality standards of BS EN ISO 14001:2015 (environmental standard) and BS EN ISO 9001:2015 (quality management standard). The products are designed for a long service life and when applied correctly can offer up to 25 years of maintenance free service.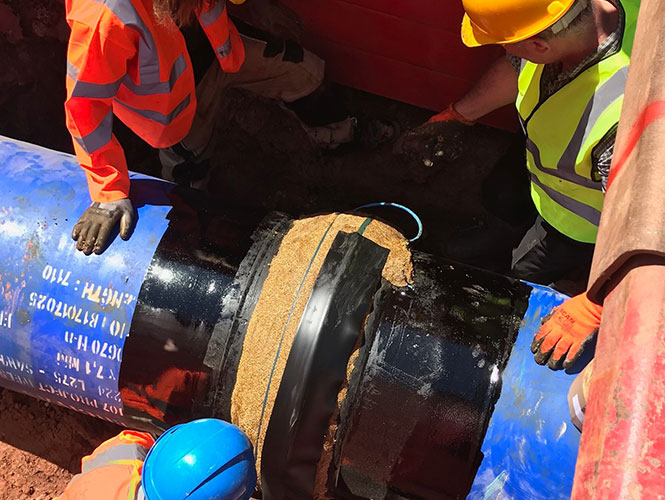 Trusted Brands
Premier Coatings Ltd has a great deal of experience in solving corrosion, sealing and waterproofing problems, as well as an international reputation for supplying long lasting and reliable products.
Its trusted Premier™, Premseal™, Premstrip™, Protal™, Steelcoat™, SeaShield™, Archco™, and Premier Shrink Sleeve™ systems are supplied to the utilities, civil engineering and construction industries.
International Service
Subsidiary companies, located in the USA, Canada, Australia, New Zealand and South Africa, together with a network of agents, ensure that superior corrosion prevention products are available globally.
1982 -1992
The company was founded in 1982 at Marley Farm, Smarden, just outside Headcorn in Kent.
From the beginning it specialised in manufacturing a range of corrosion prevention and waterproofing systems manufactured to ASTM, BS, BBA and DIN specifications for the utilities, civil engineering and construction industries. Premseal water and gasproofing membranes, Premtape, petrolatum tapes and and Premcote bitumen laminate tapes, are some of its best known brand names.
1992 – 2002
The company continued to grow steadily over the next few years at the same time increasing its product range and customer base.
In 1997 Premier Coatings was acquired by anti-corrosion and sealing specialist Winn & Coales International, who realised the great potential of owning another well known corrosion prevention and waterproofing brand in the market place.
2002 – 2012
With the added knowledge and global trading experience brought to the table by Winn & Coales International, plus additional product lines such as SeaShield, Archco, Protal, Premstrip, Premier Butyl Tapes and Premier Heat Shrink Sleeves, the following years brought an expansion of sales and trading in new territories.
In 2010 the company launched an improved Premcote Tape with the useful feature of a visual guide for obtaining the required 55% overlap, printed along the length of each roll. This printed guide also gives an instant identification of which tape was used so is very convenient for future maintenance etc.
2012 – Present Day
In 2013, as further proof of the high quality of their manufacturing processes, Premier Coatings obtained CE Marking for their Premseal waterproofing and gasproofing products.
Due to an increasing worldwide demand for its quality anti-corrosion and sealing products, in 2015 the company invested in a new production plant which not only increased capacity and improved efficiency but also reduced waste, giving both financial and environmental benefits at the same time.
In 2017 the company proudly achieved a Queen's Award for Enterprise: International Trade. This prestigious award was won for outstanding growth in overseas sales over the preceeding three years and presented by HRH The Duke of Kent KG in November 2017.
In 2018 Premier Coatings proved its commitment to reducing its environmental impact again by gaining Environmental Standard ISO 14001:2015, covering all products manufactured at the Smarden site.
Premier Coatings Ltd Company Mission Statement
The company's vision is to be the leading manufacturer and supplier of anti-corrosion, waterproofing and sealing materials and technology to the world providing, in parallel, unrivalled service to all our customers. We will supply high quality, cost effective and environmentally responsible solutions.
This will be achieved responsibly and sustainably with consideration given to the impact of the business to the environment. Risk will be managed effectively and a continuous program of improvement and innovation, research and development will be followed. Business will be conducted ethically, and employees will be treated fairly.