CASE STUDY
Premtape™ Tropical System
Protects Underground Valves at Namconson Gas Processing Plant
Buried Coatings
>
Premtape™ Tropical System Protects Underground Valves at Namconson Gas Processing Plant
Project Data
Location
Ba Ria - Vung Tau Province, Vietnam
Agent
Minh Phuc, Vietnam
Consultant/
Contractor/
Client
Branch of PetroVietnam Gas JSC
Namconson Pipeline Company
Products
Prempaste™, Premtape™ Tropical, Premier™ Moulding Compound, Premier™ PVC Self-Adhesive Tape
Date
April 2018
Project Details
A Premtape™ Tropical corrosion prevention system was applied to underground valves at the Namconson Gas Processing Plant in Ba Ria – Vung Tau Province, Vietnam in April 2018. 
Vietnamese agent Minh Phuc supplied the system to the Namconson Pipeline Company, a branch of PetroVietnam Gas JSC, who acted as client and contractor on the project. 
The surfaces of the valves were primed with Prempaste™ before Premier™ Moulding Compound was used to fill any voids and create a smooth profile ready for wrapping. A double layer of Premtape™ Tropical was applied before being overwrapped with a final double layer of Premier™ PVC Self-Adhesive Tape to fully encapsulate the system.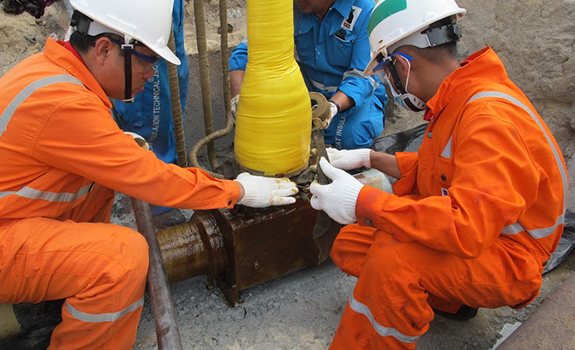 Workers on site beginning application of the Premtape™ Tropical System
Profiling with Premier™ Moulding Compound
Overwrapping with Premtape™ Tropical
The finished system